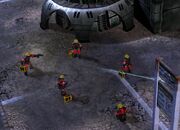 Even in the advent of the Third Tiberium War, Lord Sokar has continued to train Engineers to this day, instead of the sinister Saboteurs used by the rest of the Brotherhood. Abditus Engineers are outfitted with pieces of light combat armor which allows them increased protection to their head, shoulders, torso, arms, wrists, and knees. Their armor is typically color-coded:
Engineers stationed anywhere within Sokar bases (except for in Tiberium-related facilities) are made to wear red cloth beneath their armor.
Engineers stationed in Tiberium-related facilities are the exception to the above rule and are made to wear green instead of red.
Engineers going out into the field wear additional black beneath their armor. Their helmets are also changed to black instead of yellow.
Some Engineers are outfitted with semi-automatic light weapons, especially in extremely hostile environments. During urban combat operations, they are usually escorted by squads of Light Infantry and, in particularly dangerous cases, Sokar Cadre.
In-game
When in the presence of Light Infantry, Sokar Cadre, Tarantula Infantry or Empyrean Infantry, Abditus Engineers gain additional confidence and morale, allowing them to deal more combat damage.