Avatar
Unit
Affiliation

Nod

Role

Huge giant laser monster

Armament

Lasers
Flamethrower
Missile Launchers

Protection

Heavy

Properties
Hit points

high

Armor type

heavy

Production
Cost

2200

Build time

0:22

Requires

Tech Lab

Combat
Ground attack

Lasers
Missiles
Flamethrower

Air attack

Missiles

Cooldown

low

Land speed

slow

Attack range

long

Sight range

high

Function
Abilities

Switch weapon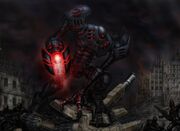 The Avatar Warmech is a monsterous walker that is armed with two laser cannons for arms and anti air launchers. The walker's special ability is to switch between its missile launchers to the flamethrower which is effective against both infantry and bases.
One of its weaknesses includes that it is meant to deal with heavy targets in one on one battles only but if it dares to attack swarms of enemies like swarms of Missile Squads or Predator Tanks it will lose the fight.
Ad blocker interference detected!
Wikia is a free-to-use site that makes money from advertising. We have a modified experience for viewers using ad blockers

Wikia is not accessible if you've made further modifications. Remove the custom ad blocker rule(s) and the page will load as expected.