C-17
Unit
Affiliation

GDI
Allies
Nod

Role

Transport and/or Heavy bomber

Armament

Bombs

Properties
Armor type

Heavy

Production
Produced by

Airfield

Combat
Ground attack

Fuel Air Bomb

Air speed

fast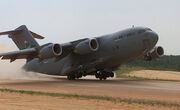 This cargo plane is one of the second most fastest and heaviest paradrop/bomber And transport plane in the C&C universe. It was able to carry a fuel air bomb and ship weapons from one place to another.
In the service of Nod this transport is used to transport weapons from one place to another especially in the Battle of Spain but the transports were shot down by GDI F-18 hornets.
In the service of GDI and The Allies it was used to land tanks at the local airfield as reinforcement deployment.
Ad blocker interference detected!
Wikia is a free-to-use site that makes money from advertising. We have a modified experience for viewers using ad blockers

Wikia is not accessible if you've made further modifications. Remove the custom ad blocker rule(s) and the page will load as expected.