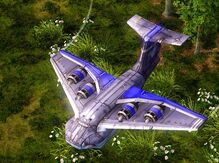 The High Tier of the Allied Airforce is the Century Bomber
Good or Bad
Good
Highly destructive bombs
Can take on board up to 5 infantry units and paradrop them behind the enemy lines.
Heavy armor
Can be upgraded with Advanced Aeronautics which increases its bomb capacity
Much faster than Kirov Airship
A squadron of 4 century bombers with Advanced Aeronautics can destroy even the toughest buildings in a single bombing run
Perfect for dropping Tanya in the middle of an enemy base.
Bad
Expensive ($2000) and Requires Maximum Clearance (Tier 3)
Limited Ammo,So it will repeatably return in order to Rearm
Production is limited to the amount of empty slots on an airfield
MiG fighters, Jet Tengus and rogue Apollo fighters pose a threat
Not as tough as Kirov
Paratroopers are dropping down slowly thus they are an easy target for anti-air
Can't return to base on Command
Inaccurate on some targets and, as such, many bombs are wasted.